We are very excited today to announce the addition of a new product to our innovative suite of content monetization tools. Drum roll please…Today we are proud to announce the launch of AdWall!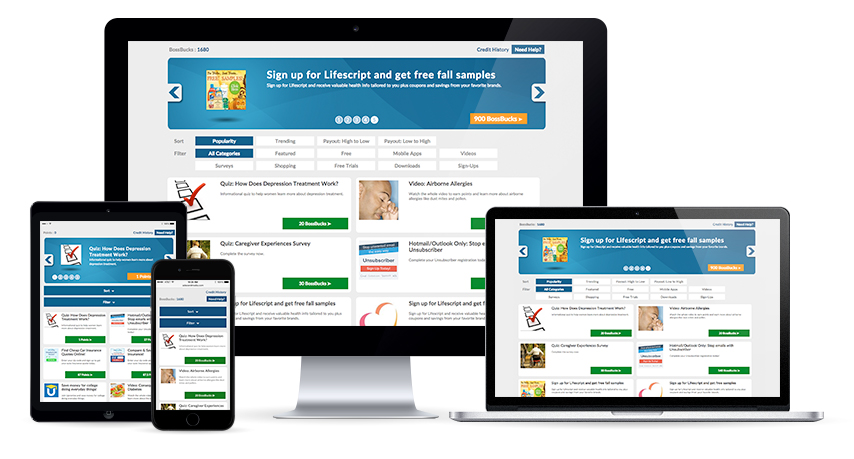 What is AdWall?
AdWall is a comprehensive offer wall technology that allows you to generate significant revenue from your virtual goods, services, or perks. With a one-click set up, and quick customization options, AdWall allows you to deploy a complete no-cost to user, rewards-based system on your mobile app or website in minutes.
Your AdWall comes fully loaded with all of the features that you will need to monetize your desktop or mobile visitors. Below are just a few of its many features:
Fully Mobile Responsive, Willing, and Able!
Your AdWall is designed to monetize mobile traffic, as it is fully mobile responsive. Therefore, whether your AdWall is displayed on a desktop, tablet, smartphone, or laptop, you can be sure that it is being displayed in a format that is appealing to your users.
Your AdWall Has Your Back!
Aiming to save you time, we built user support services into your AdWall, including a pre-populated FAQ section and support form for crediting and technical issues.
Monetize Mobile Users via a Desktop Site
When it comes to cashing in on mobile offers, mobile app and game developers shouldn't have all of the fun. Your AdWall features send-to-device functionality, allowing your desktop visitors to complete mobile offers on your AdWall by sending mobile offers to their device directly via email link, shortened URL, or QR code.
Monetize in Minutes
Time is money. Therefore, AdWall technology features a publisher dashboard with easy customization options and a one-click set up.
Did Someone Say Customization?
Your AdWall dashboard allows you to easily adjust numerous features on your AdWall, including the height and width of your AdWall, choosing which offers are displayed on your AdWall, changing the name of the currency on your AdWall, and more!
Mobile Device Targeting is No Problemo
Mobile device targeting comes standard on your AdWall. Therefore, users on your AdWall can select their current mobile devices, allowing them to see mobile offers that are most relevant to them.
Who Doesn't Love More Offers?
The more offers that a user sees, the higher the chances are that they will find one that they like. Therefore, AdWall technology features an innovative scroll mechanism, allowing you to continuously display offers as a user scrolls down on your AdWall.
It's Time for Total World Monetization!
Offers on your AdWall utilize automatic geo-targeting, ensuring that they are displayed based on the current country location of your users. Thus, you can be sure that your users are only seeing offers that are targeted to their current location.
The Choice is Yours
You can choose whether to manage offer crediting and credit history, or to have AdWall take care of those functions automatically!
Your Shiny New Toy
Once you deploy your AdWall, you will see a mobile responsive, and fully developed, rewards-based system that is designed to help monetize your visitors. From bright call-to-action buttons, to offer selection via sort or filter functions, to attention-grabbing image spaces, the sleek design of your AdWall was built to help you generate revenue.
From Soup to Nuts
AdWall technology is designed to be a comprehensive offer wall solution. Featuring a fully developed design, credit tracking system, and support services, your AdWall is immediately ready to use "right out of the box."
Create an AdWall Today! 
To create an AdWall, you need an Adscend Media account. Sign up to Adscend Media and take the first step to creating your first AdWall!
Already have an account? Log into the Your AdWall Profiles page to begin creating your AdWall.